THE GRIZZLY BAND: The band, formed in 2008 in the music center of the Bay Area, is primarily inspired by such acts as Bruce Springsteen, Lucero, Johnny Cash, Social Distortion, and Jawbreaker, Their sound has been associated with the many genres of Rock, Country, Punk, and Americana. In 2010, their first album, "How Fast They Fade" (iTunes, Spotify, Amazon) was released. 2011 brought Grizzly their first live recorded album, "Drunk and Loud: Live at Rudyard's" (iTunes, Spotify, Amazon) which captured the high octane energy of bar music that they have become known for, "Victory" was released in January 2013 on iTunes and Amazon Demand. Altercation Records, Inc., a long-running punk label based jointly in Austin, Texas and New York, announced the signing of Houston's outlaw country-rock 5-piece The Grizzly Band in early 2014, with their debut album 'Lost and Found' available now.

Releases: 'Lost and Found'




THE SVETLANAS: In the seventies,the Svetlanas worked for KGB: the main secret police organization in the Soviet Union. They were spies,informers,fighting agents to whom was assigned the task of stealing the military secrets of the most powerful nations in the world. In 1977, their cover was as a punk band in the United States, a flawed amplifier triggered a 3000V discharge: the four members of the band,hit by the violent electric shock,went into a coma. The hospitalization was immediate, such was the decision of KGB to steal their bodies freeze and hibernate them, in order to preserve the secrecy of the mission. The Svetlanas were transported inside cryogenic rooms, on a merchant ship bound for USSR, but, during the navigation, the ship mysteriously sank in the ocean. Nobody knows what really happened to Olga, Bazuka, Jurij and Vasilij for the following thirty years…until an English tabloid revealed, by a scoop, the real story of the band.After the fall of the Soviet Union and the disappearance of KGB,the Svetlanas decided to make a clean break with the past and created their new identities, trying to integrate themselves in the society with their new lifestyles. They moved to Milan, had some plastic surgery and attended some intensive Italian language courses. At the moment the Svetlanas, with their new names of Angela, Micky, Diste and Mick, have recreated the band, dedicating themselves full time to what before was just a cover.

Release: 'Tales From the Alpha Brigade'




AMERICAN PINUP: Hailing from Westchester County, New York, female-fronted four piece American Pinup has quickly gained notoriety for their hooky compositions, energetic live performances, and strong DIY ethos. The band blends elements of punk, pop, rockabilly, surf, folk, and ska to create a unique and fresh alternative sound. American Pinup prides itself on writing, recording, and producing all of their own material, combining DIY principles with professional standards. Additionally, the band joins the principles of punk rock with a reverence for the melody and simplicity intrinsic to pop music, making their sound both edgy and commercially viable at once. The band's catchy melodies, strong lyrics, dynamic musical arrangements, fun live performances, and hard-working attitude make them an up-and-coming outfit to watch.

Releases: "Strange Creatures", "Split" with Lost In Society, 'Change Machine'




SAY HELLO TO THE ANGELS: Angular, driven and beyond impressive, Say Hello To The Angels are rewriting the book on post-punk, and including chapters most have not yet even considered. Fronted by ex-Riddlin' Kids' Dustin Stroud, SHTTA are certifiable road dogs that are pushing the boundaries of post-punk.

Releases: "Modern Fire", "Break Your Sword", "Stay Awake"




LOST IN SOCIETY: Combining raspy punk-rock vocals, fresh, fun lyricism, and a stage presence that will give any veteran concert-goer the chills, Lost In Society are undoubtedly the real deal. Based in the indie music hub of Asbury Park, the trio got their start in 2004 with their first big show at the PNC Bank Center in Holmdel, NJ. Shortly after they would record their first EP 'Gone' with Jon Leidersdorff of Lakehouse Music. In 2009 they hit the studio again with Leisersdorff, releasing their first full length album, 'Eastern Empire' in early 2010. The band signed to Altercation Records shortly after, working on a new batch of tunes produced by Pete Steinkopf of the Bouncing Souls. Having rocked the Vans Warped Tour in 2012 in support of their newest full length album 'Let It Sail', this talented trio will be on the road most of 2014, so check back for a date near you!

Release: "Split" w/ AMERICAN PINUP, "Let It Sail"




NEW RED SCARE: Fancy, fast, raw rock 'n roll from the harbingers of the Whiskey Revolution! Formed in 2011 in the loving arms of Albany, NY and spreading like so much booze-fueled wildfire, New Red Scare combines the sweat-drenched intensity of classic CBGB's punk a la Dead Boys with a NY Dolls flair that is all their own.

Release: "Waiting For a Spark"




THE OBVIOUS: The Obvious auspiciously formed when rhythm section Mike Smith and Rob Blake got to talking to lead section Surojanie (Angie) Sugrim and Dan Astorri after meeting in jail late one night in Midtown Manhattan in early 2009. The two sets of friends had been hauled into the police station for separate arrests (coincidentally for the same offense). Dan asked Mike for a lighter. Next thing you know, our sex was on fire.

Release: "Duress"




THE JUKEBOX ROMANTICS: The Jukebox Romantics are 5 certifiable and usually belligerent punk rockers from southern NY. Since releasing their debut album on Altercation Records in 2009, the Jukebox Romantics have taken their talked-about live show from coast to coast including dates during Austins SXSW festivals and the Warped Tour and Gainesville's The Fest 9 in late 2010. With a genre hopping approach to their sound, the Jukebox Romantics channel their influences of bands like The Clash, Bouncing Souls, and One Man Army through personal song writing and their ability and eagerness to be absorbed by their audiences. With their 2nd full length, "A Lion And A Guy" currently in stores and numerous appearances on the Vans Warped Tour to their credit, the JBR's don't plan on slowing their touring anytime soon. Come drink and dance with them in your city!

Releases: "Self-Titled", "A Lion and a Guy"

/>


/> BORN TO LOSE: Born To Lose is an all-out punk-rock assault that combines beer-drenched vocals, sing-along choruses and high voltage guitar licks to create fist pumping anthems that make you remember why you fell in love with punk rock in the first place. They've been called everything from "Street Punk" to "Pub Rock", but one thing's for sure, no labels are gonna stop'em from serving up their own brand of Texas flavored punk rock. The guys had been kicking around Austin and cutting their teeth in other bands for a couple years before they all eventually found their way into Born To Lose in 2000. After a few years and many beers in and around Texas, they decided to take the circus on the road. A couple records and thousands of miles later, Born To Lose's legend still lives on in the good ol' U. S. of A. and Europe.

Releases: "Saints Gone Wrong", "The Dreams of Kids"


TWO FISTED LAW: Blasting out of the CT hardcore scene like an uppercut to the face, Two Fisted Law have rocked the stage alongside everyone from the Misfits to Murphy's Law, powerhousing their way to a growing legion of fans. See them on tour across the U.S. summer 2013!

Release: "Late Nights and Bar Fights"


CASKET ARCHITECTS: Blazing their way through the stagnation of a co-opted and compromised music scene, the Casket Architects aurally assault audiences, forcing new blood to course through the veins of the indifferent. The Casket Architects are an explosive trio from Warwick, NY who have branded themselves sci-fi deth rock. Crossing the genres of punk, metal, and late 70's industrial noise, the group tirelessly pursues a unique sound of their own. Sonically, they force you to join in their spastic rapture; lyrically, they dare you to enter the danger of their world, one in which scientists and surgeons dabble in black magic and every inner struggle is a paranoid fight to the death. Bassist Evan Schlomann's driving, rollicking bass lines and drummer Annie Terror's thunderous beats back the madman metal melodies of guitarist Mike Shaw. Topped by Shaw's urgently grating vocals, the trio unleashes a torrent of musical emotion when they play, pushing the audience into that territory of ecstatic anguish which most of us dare not experience.

Releases: "Skull Persuasion", "Future Wounds"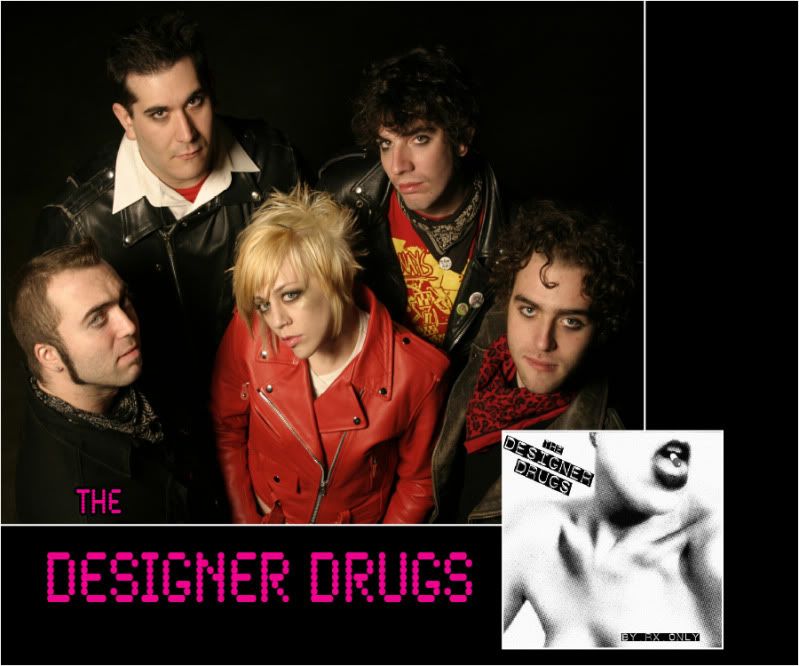 THE DESIGNER DRUGS: The Designer Drugs, a Boston, MA-based psychobilly band with a glam-punk style, made their full-length album debut in 2008 with 'By Rx Only' on Altercation Records. Formed in 2005, the band is comprised of Emily Dee (vocals), Rodney Schuyler (guitar), Dain Fiacco (guitar), Juston Speed (bass), and Barry Lurker (drums). They cite influences that include New York punk bands such as the New York Dolls and the Ramones as well as British punk bands like the Clash and Siouxsie and the Banshees, along with Johnny Cash.

Releases: "By RX Only"




BLASE DEBRIS: It was bound to happen sooner or later. An album so complete in its awesomeness that the team behind the long running, globally-distributed punk periodical Altercation would be forced to initiate a record label simply for the sake of putting out a release of such magnitude. Blase Debris' 'Creep Cool' is that album. A sound harkening back to the classic punk landscape of Generation X, an image crafted from the shadows of the Damned, a 1950's harmonic tinge as darkly perfected as anything in the Misfits' catalog, all tied together into a Phil Spector Wall-of-Sound production approach...it is a feat of sonic mastery, that rare gem among stones - virtually a perfect album. 2008 brought the new album 'Morfiend' as well as numerous dates on the Vans' Warped Tour

Releases: "Creep Cool", "Morfiend", "La Morte Mi Trovera Vivo"




PUNK BLUES REVIEW: PBR (or Punk Blues Review for those not yet hip to the band's mastery) combine searing female vocals with raging guitar chops, intent on updating classic blues standards with a modern punk sneer. Old school for the new school, PBR personifies all things custom - Sailor Jerry tattoos, hot rod cars and whiskey-fueled late nights. Ideal for fans of Social Distortion, X, Blues Explosion and Me First and the Gimme Gimmes.

Releases: "Thieving From The Best", "Death or Glory"




JT HABERSAAT + THE ALTERCATION PUNK COMEDY TOUR: Altercation Punk Comedy Tour mastermind JT has been getting in the van and performing his brand of unapologetic standup for almost two decades, first hitting the comedy clubs of New York City at the tender, angst-filled age of 16. Since then he has logged thousands of miles in club shows zig-zagging the nation, appeared on Comedy Central, acted opposite Ron Jeremy in the Troma cult classic 'Toxic Avenger 4: Citizen Toxie', become a go-to support act for folks like Henry Rollins, Doug Stanhope and Jeanine Garofalo, and crowned the host of the annual Punk Rock Bowling Awards in Las Vegas since 2010. Oh yeah, he also runs his own record label and publishes an international-distributed punk magazine in his spare time. Not too bad for a Gen-X slacker.

Releases: "Metal Up Live" (with Chris Cubas, Ruby Collins and Richie Stratton)